4th International Breast Symposium Düsseldorf – IBSD 2016
Dear Colleagues:
again, I would like to personally invite you to join the faculty and me to the 4th International Breast Symposium Düsseldorf (IBSD) being held in April 22 - 23, 2016.
We have been able to recruit again renowned national and international plastic surgeons and senologists as faculty members, to initiate discussions of current developments in aesthetic and reconstructive breast surgery. We would like to take the greast opportunity to strengthen the multidisciplinary approach between the colleagues to create a platform for an open discussion from different perspectives.
Our Symposium will include debates, lectures and round tables about following Key Topics:
• Pro and contra debates, round tables and hot seat sessions of key opinion leaders
• Plastic and reconstructive surgery – perspectives in the future
• Different aspects in augmentation
• Different countries – different practice in surgery?
• Lipofilling - what is new?
• Immediate or delayed reconstruction?
• Reduction and mastopexy - different cases
• Perforator flaps vs. implants, matrixes and lipofilling
• Next generation screening!
• Radiotherapy and reconstruction
• Lymphedema treatment – from different points of view
• Difficult refinements in augmentation
• Mastectomies from different perspectives
• Complications in autologous reconstruction
• Best case - best save session with live voting of the audience
Our Goal is to have a lively and informative symposium. The symposium venue, situated on the famous Königsallee, provides again a very special atmosphere. I would also like to express my gratitude to the members of the faculty. Without their time and support, it would have been not possible to accomplish this interesting program.
I look forward to welcoming you in Düsseldorf.
Kind Regards
Prof. Dr. med. Christoph Andree
Scientific Board
Prof. Dr. med. Christoph Andree
Director of the Department of Plastic and Aesthetic Surgery, Sana Kliniken Düsseldorf
Univ.-Prof. Dr. Dr. h. c. Raymund Horch
President of German Society of Plastic, Reconstructive and Aesthetic Surgeons, DGPRÄC
Univ. Prof. Dr. med. Riccardo Giunta
Vice-President of German Society of Plastic, Reconstructive and Aesthetic Surgeons, DGPRÄC
Prof. Dr. med. Ernst Magnus Noah
President of Association of German Aesthetic-Plastic Surgeons, VDÄPC
Univ. Prof. Dr. med. Rüdiger Schulz-Wendtland
President of German Society of Senology, DGS
Prof. Dr. med. Moustapha Hamdi
President-elect of Belgian Society of Plastic, Aesthetic and Reconstructive Surgery (BSPRAS)
Prof. Dr. med. Rene van der Hulst
Presdent of Netherlands Society for Plastic Surgery
Faculty National:
Dr. Abdallah Abdallah, Prof. Dr. Christoph Andree, PD Dr. Alexander Bach, Prof. Dr. Andree Faridi, Prof. Dr. Tanja Fehm, Dr. Uwe v. Fritschen, Prof. Dr. Günter Germann, Prof. Dr. Riccardo Giunta, Dr. Mazen Hagouan, Dr. Jürgen Hoffmann, Univ.-Prof. Dr. Raymund Horch, Prof. Dr. Wolfgang Janni, Prof. Dr. Marcus Lehnhardt, Prof. Dr. Jutta Liebau, Dr. Beatrix Munder, Dr. Daniel Müller, Dr. Carolin Nestle-Krämling, Prof. Dr. Ernst Magnus Noah, PD Dr. Matthias Reichenberger, Dr. Mahdi Rezai, Prof. Dr. Rüdiger Schulz-Wendtland, Dr. Claudia Schumacher, Dr. Katrin Seidenstücker, Univ.-Prof. Dr. G. Björn Stark, Prof. Dr. Elmar Stickeler, Dr. Jürgen Terhaag, PD Dr. Matthias Voigt, PD Dr. Mathias Warm
Faculty International:
Prof. Dr. Caludio Angrigiani, Dr. Yoav Barnea, Dr. Corinne Becker, Prof. Dr. Phillip Blondeel, Dr. Roy De Vita, Rom, PD Dr. Jian Farhadi, Prof. Dr. Moustapha Hamdi, Prof. Dr. Per Hedén, Prof. Dr. Stefan Hofer, Dr. Jaroslaw Krupa, Dr. Ramon Llull, Dr. Patrick Mallucci, Prof. Dr. Jaume Masia, Dr. Stephen McCulley, Dr. H.P. van Not, Dr. Stefano Pompei, Rom, Prof. Dr. Alberto Rancati, PD Dr. Christoph Rageth, Prof. Dr. Eric Santamaria, Dr. Benjamin Sarfati, Paris, Prof. Dr. Michael Scheflan, Dr. Roger N. Wixtrom, Dr. Andriy Zhygulin
General Information
Date / Venue
Friday, 22nd - Saturday, 23rd April 2016
Hotel InterContinental Düsseldorf, Großer Ballsaal I + II Königsallee 59, 40215 Düsseldorf
Telefon: +49 211 8285-0
Course Language
English
Accommodation
For Delegates are discounted hotel rooms available. For Hotel reservations, please use the obligatory registration form. InterContinental Hotel Düsseldorf
Single Room incl. Breakfast, 21st - 23rd April 2016: 165,00 Euro/p.night
(175,00 Euro after Dec. 13,2015)
Double Room Surcharge incl. Breakfast, per night: 25,00 Euro
Registration
Rate "2015 PLUS" (only before Dec. 15, 2015): 250,00 Euro
Rate "EARLY BIRD" (only before Feb. 15, 2016): 300,00 Euro
Regular Registration: 375,00 Euro
Resident/Trainee/Fellow Delegates: 225,00 Euro

Social event / party @Fernsehturm Düsseldorf, April 22, 8:00 p.m. to midnight
80,00 Euro (including party buffet, midnight snack, wine, beer, soft drinks, cafe)
Facial live injection – Curriculum for junior physicians (Cancellation not possible, no refund)
Thuresday, April 22, 2016, 18.00 – 20.30 @ BREAST & BODY, Königsallee 88, 2nd floor
150,00 Euro (for delegates of IBSD 2016)
300,00 Euro (only Curriculum)
Facial hands-on-work shop - only for delegates (Cancellation not possible, no refund)
149,00 Euro (Friday, 13.30 – 15.30)
149,00 Euro (Friday, 16.00 – 17.30)
Course language for workshops: German
Scientific Director
Prof. Dr. med. Christoph Andree
Director of the Department of Plastic and Aesthetic Surgery
Sana Kliniken Düsseldorf
BREAST & BODY
Center of excellence in aesthetic & reconstructive breast surgery
Königsallee 88, Düsseldorf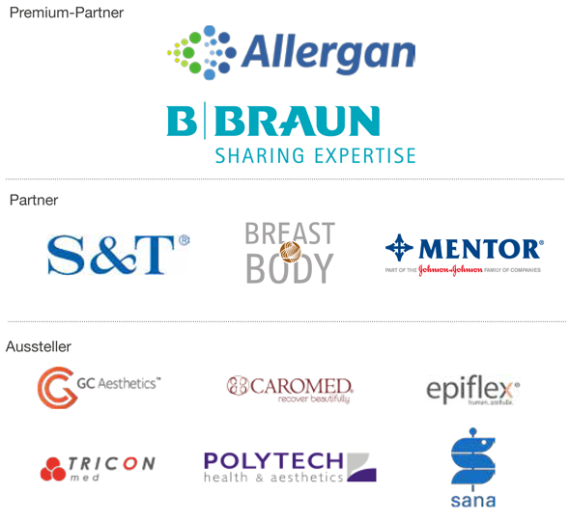 back to top